How to Log into the GPStrac Map Web Portal
<![if !supportLists]>1. <![endif]>When you signed up for GPStrac either on the web site www.gpstrac.com or directly from LADS Network Solutions, you should have received an email providing you with a private URL for your companyŐs GPStrac web site portal. This email also contains the user name and password to gain access to your GPStrac portal. If you canŐt find this email, please contact us at support@gpstrac.com. You will be asked a security question to ensure this information is only given to authorized personnel.
<![if !supportLists]>2. <![endif]>Once you have received this information, you can either use the www.gpstrac.om/login.html site or simply type the assigned URL in your internet browser.

<![if !vml]>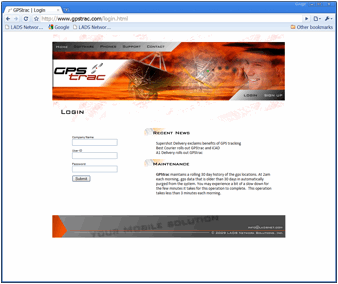 <![endif]>
<![if !supportLists]>3. <![endif]>The GPStrac web portal is certified on these internet browsers: Mozilla Firefox available free at www.Mozilla.com/Firefox and Google Chrome available free at www.google.com/chrome.
<![if !supportLists]>4. <![endif]>More information on how to use the GPStrac Map portal is available at: www.gpstrac.com/support.html.